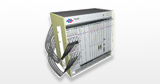 Navini Networks

With powerful commercial validation of its patented Smart Antenna technology that delivers zero-install, non-line-of-sight, portable broadband, Navini is demonstrating the viability, economic advantage, and performance success of the mobile WiMAX vision.





ALTIUS Expands Options Offered for "Out of Band"
Back Haul
VAR Agreements Signed with Two New
Vendors—GigaBeam and fSona

ALTIUS Communications announced two new vendor partnerships during the first quarter of 2006: GigaBeam and fSona. Both reseller agreements add unique technologies and expanded capabilities to the ALTIUS product line. ISP customers, for example, will have new, exciting options from ALTIUS for "out of band" back haul. The new offerings will also allow ALTIUS to penetrate the government and enterprise markets more effectively. Some details for each company and its focus follow below.